About Vits
Vit Makanan (KL) Sdn Bhd started out as a food trading company in 1975 and gradually ventured into the instant noodle industry – a venture leveraging on a family tradition of noodle making that was passed down from generations.
In 1977, Vit Makanan (KL) Sdn Bhd was then elevated into a noodle manufacturing facility; manufacturing and distributing shelf stabled noodles to hawkers and suppliers, and soon made its mark as the dominant noodle manufacturer a year later. The rising demands and growth in business compelled the company to expand the size of its facility in 1978 followed by another in 1998.
Since the expansion and with the best people in hand, our capabilities and resources empowered us closer of becoming the world's preferred noodle expert that signifies global standards in nutritional value, quality and services. Our expertise in noodle shelf life conservation has contributed to the reputable trust among naturalist as our noodles were conserved with natural techniques. We emphasized on current needs where time spent in the kitchen has become lesser and lesser. Hence, we seek to develop simple, delicious, nutritional, easy to prepare yet affordable products so everyone can enjoy something great from the kitchen in less time.
We took pride in achieving a mark in the industry as a trustworthy noodle manufacturer and distributor, and will continue to share this pride through the wonders of noodles with constant innovation and creativity.
Our Philosophies
VISION
The dreams we are aiming for
We strive towards a vision of becoming the preferred noodle expert; contributing our delicious and nutritious noodles as the staple food of choice while integrating innovation and traditions to create the most wanted noodles in Malaysia and beyond.
MISSION
The practice to perfection
We practise these ethics on the things we do and instilled them in our hearts on a mission to make sure everything flows smoothly.

Safety
Safety measures are important within the working environment to ensure our people are safe and our noodles are safe to consume.

Quality
Quality reflects on our reliability so it is very important to manufacture our noodles with the finest ingredients and inspect under the most stringent tests to make sure only the best were put into packages.
Why Us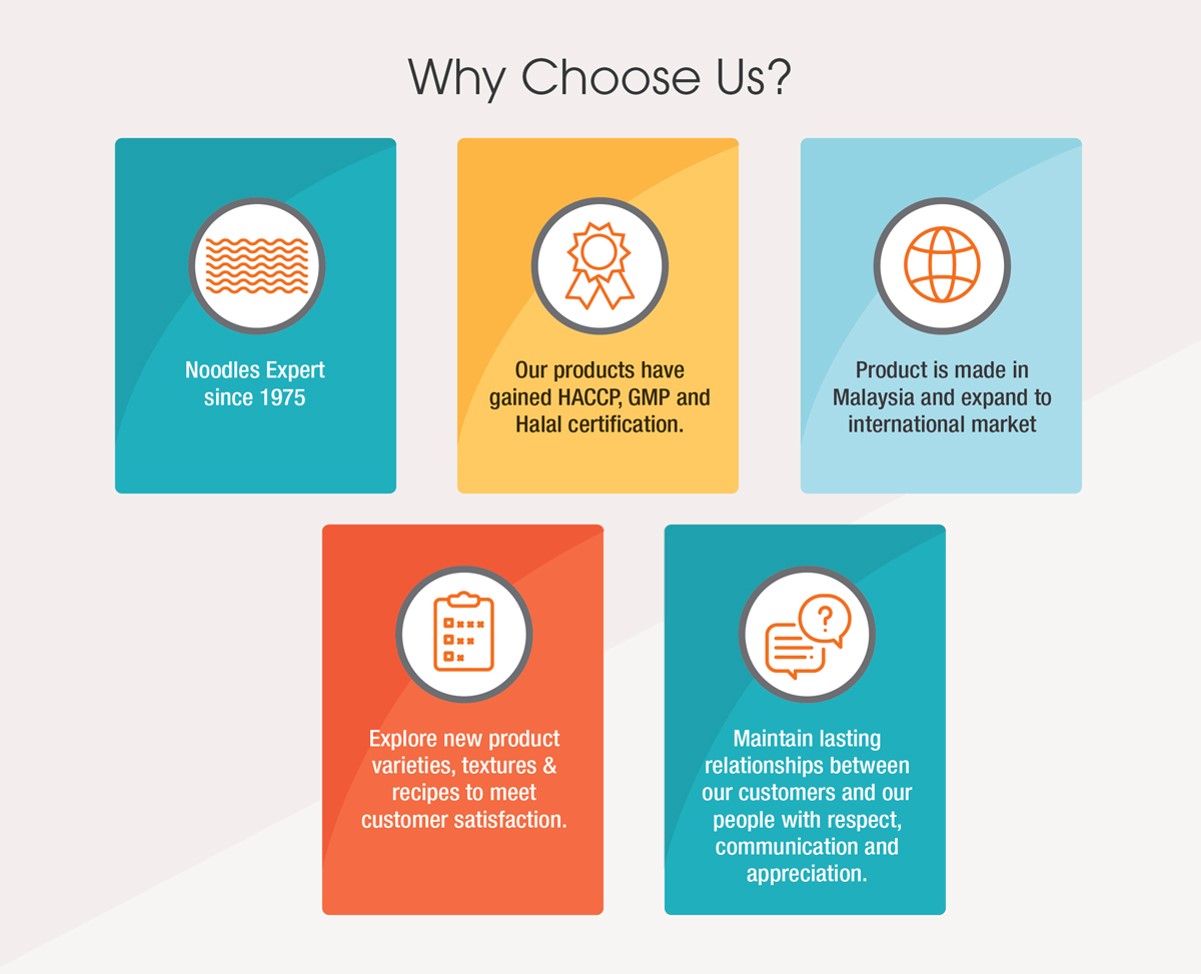 Food Safety Policy